Why You Need Routine Heating Service
Getting routine annual maintenance for your furnace or heat pump is essential for getting the best possible energy efficiency, comfort, and service life from your equipment. At Brimhall Maintenance, our service engineers know just what tasks need to be done in order to keep your furnace or heat pump working its best for as long as possible. Contract with us for maintenance and we will: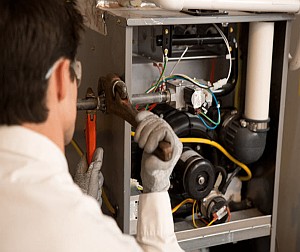 • Perform a detailed safety inspection
• Identify and replace worn parts before they have a chance to fail
• Clean the system to improve efficiency and air quality
• Check and adjust air flow to ensure optimum performance
Remember, in some cases annual maintenance is actually required in the terms of your warranty. Why risk losing your warranty benefits, suffering needlessly dirty or uncomfortable indoor air, or experiencing a premature system failure when you can easily get expert maintenance from Brimhall Maintenance?
Let Us Maintain Your Memphis, TN Home Furnace
BENEFITS OF HAVING YOUR SYSTEMS SERVICED:
We recommend having your furnace serviced at least once a year to prevent a breakdown in the peak of winter. The benefits to taking care of it before the cold sets in are:
• The obvious, ensures your furnace is in peak shape. We'll check airflow and perform a multi-point inspection.
• Decreases the chance for breakdowns. A full service check will allow our technician to possibly find potential problems and ensure they never occur.
• Helps maintain your system's energy efficiency. Regular maintenance can ensure that your system is operating at its top efficiency. This alone will help you save on heating expenses.
• Keeps any warranties valid. Most manufactures and home warranties require you have your furnace serviced at least once a year.
• Safety. Cracks and leaks anywhere in the fuel area could cause potential harm to your home and family.
BENEFITS TO HAVING YOUR CONDENSING UNIT SERVICED YEARLY:
• Energy Efficiency. Just having your air filter changed regularly cleans debris from your condenser. Clogged air filters inhabit airflow into the system which causes a strain on your air conditioner's fan motor. Not preforming a regular service check can also cause air conditioners to have to work harder than they should. So, if your AC unit is strained it requires more energy to operate. We'll also make sure ducts are in working order.
• Ensures your AC Unit's longevity.
• Saves on Replacement and Repairs.
• Keeps any warranties valid.